August 2nd, 2014
I will be getting back to my Alaska photos very soon. I happened to run across some photos I took last summer of one, two, or three different hawks. It was such an honor. Most of the time they would perch on a telephone pole across the street or in the yard. But, on several occasions, he/she were within several feet of me. I was so surprised during those events; I almost didn't take a photo. I had one of the hawks swoop down within 20 feet of me and snatch a mole from the ground and keep on going. This was so exciting. I felt like a kid again; witnessing something for the very first time. It amazes me, how photography has helped me to see the world as a much prettier place than I had seen several years ago.

Stop, look, and listen. You will be amazed at what you see and hear. I hope you enjoy all of my hawk photos and will share them with your friends. I do believe all of the hawks are red tail hawks. But, if for some reason, you think I am wrong, please let me know. I do not want to lead anyone down the wrong path in bird identification.

Thank you for taking the time to read this and I hope you all are having a great day. Till the next time.........


Gena

June 3rd, 2014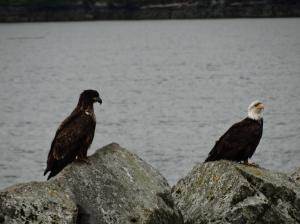 I have just returned from a 2 week cruise to Alaska. This should really be on your bucket list; if it isn't already, to see Alaska. This is a beautiful state. We arrived just at the right time, with it not being too cold and spring blossoms surrounding us. You see snow-capped mountains, all sorts of wildlife, glaciers galore, and quaint little ocean towns.

Quite a few of these towns only receive merchandise and supplies to sell and use in production, by sea. Everyone we encountered were extremely friendly as well. The one thought spoken the most by the locals, is; "I can't imagine living anywhere else." That alone, truly says a lot about the people of Alaska.

The image I have chosen to go with this blog is a photo of a juvenile bald eagle and a mature bald eagle in Ketchikan, AK. This is the first time, I have seen a juvenile up close. Bald eagles are plentiful in Alaska and very easy to spot compared to Ohio. One is also allowed to get as close as the Eagles will allow, compared to regulations in Ohio. The one item I did learn from our guide this particular day, is that it is a federal offense to even have an eagle feather in your possession. To me, this seems somewhat extreme; especially if they are already on the ground, but this is the law in every state.

Every few days, I will try to write about each excursion we did and the towns we stopped in. I will also post some of my photographs I took while in Alaska. One can imagine, though; that with over 1,800 photos to choose from this may be a feat in itself. I will close for now and will try to write again in just a few days. Until then; have a wonderful day.